Welt Bühne open mic in Munich
Munich's most intimate open mic night takes place the second and fourth Monday of each month at the Eine Welt Haus. If you're a face-book person, sign up to our group and you'll get a reminder when the next night is coming up, usually.
News: The last Welt Bühne was December 11th, 2017. They're renovating the theatres in the Eine Welt Haus starting in January 2018, and I don't think we'll be back after the construction is over. After six years of hosting open mic nights I'm taking a break! -Paul
Here's how the night works. The show starts at 8pm, if you'd like to sing just show up on the night and talk to me to book your place. It's not necessary to register in advance, just come in. I'll be there around 7:15 to set up; it's not really necessary to show up until 8 but come early for a drink, no problem. When you enter the Eine Welt Haus, follow the signs to the Welt Raum downstairs, it's a small theatre in the basement. I'll start off the night with a few songs and then introduce all the acts after that. Each act will usually have time for three songs, but it all depends on how many people are there. If you're there at the start of the show, you can play. If you're later, it depends on how many people we have that night. I'll do my best to make sure everyone gets a chance to play, but being there at 8 is the only way to guarantee a spot. The show is over at 10:30, and I'll usually do one or two songs at the end of the night to finish it off. There is a guitar and piano available, or you can bring your own instrument if you like.
There is no admission charge, and everyone is welcome. Please support the night by buying a few drinks in between the acts and bringing lots of friends to do the same, there is a small bar in the Welt Raum. The performers get a free drink of course to say thanks for helping us put on the show. Near the bar we have a "shop" area for performers to put CDs or merchandise out for sale if they have any. The theatre downstairs closes after the show, but we usually all meet upstairs in the main bar afterwards to talk over one more drink.
As the night progresses it will certainly evolve, and of course if you have any ideas for us please write me and let me know. Looking forward to seeing you there soon.
Paul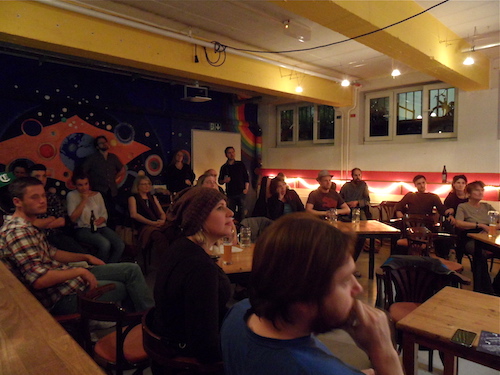 Performers
I've taken a (bad) picture of (almost) everyone who's played at the Welt Bühne, and here are links to some of the performers who have music online:
Antonio, Bertl, Michi Bohlmann, Flonoton, Thomas Graf, Sezgin Inceel, Meanders, Monika and the Explosion,
Carmina Reyes, Ama Pola, Alex Sebastian, Adam Sweeney, Manu, Jens Wernick, and many more have played with us. If I've missed you, let me know and I'll put your link up too.