recording in Munich
I love recording. I have had my own proper studio setup for the past six years and have been studying studio technique, formally and informally, for the past ten years. And for years before that I was piecing together various cheap microphones and tape recorders to produce makeshift experimental recordings. Now it's a big part of my life, I make my living producing music for other people and love just talking about it with fellow enthusiasts or even beginners.
My specialty is arranging and producing music for singer songwriters who are just starting out their recording career. If you have a song and a guitar, I can fill out the rest of the sound for you with a wide variety of real and synthesized instruments. I'll also be happy to give you advice about the song before we start, including help with English text. I'm familiar with the little tricks and slight alterations that can turn a good song into a great one, both musically and lyrically.
Another specialty is recording bands and small ensembles, both instrumental and choral. I'm also experienced in recording voiceover work and composing music for film and theatre, and can do both live and studio recording. I think I've had experience with pretty much everything except the kind of heavy metal where the singer just screams!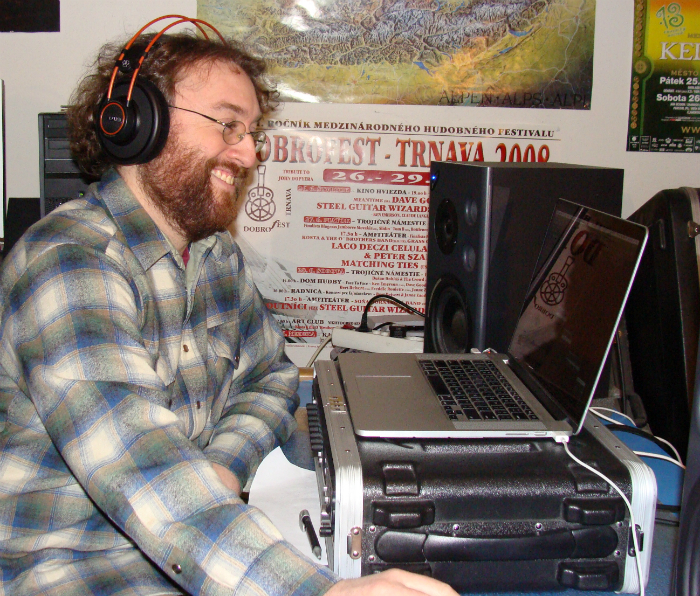 Equipment
My software of choice is Logic Pro X, primarily though an Apogee Ensemble interface and with additional Focusrite preamps for bigger jobs. I have the capability of recording 16 channels simultaneously, so bands are no problem. I do live recording at concert venues as well. I have a variety of mics, small and large diaphragm condensers as well as dynamics, and am always upgrading. My main vocal mic, and probably favorite mic of all time, is a simple AKG 414.
Instruments
I've got a variety of instruments scattered everywhere, and though I'm not a virtuoso at any of them I can add a lot to the sound of your songs. I've got a mandolin, bouzouki, accordion, concertina, keyboards, acoustic guitar, classical guitar, Epiphone Les Paul electric guitar, Fender Jazz bass, and a lot of assorted odds and ends, along with a huge library of virtual instruments. I'm also in touch with a lot of session musicians as well, so if you're looking for something in particular I can help arrange it.
Rates
For a lot of recordings these days it's not necessary to hire an expensive recording studio. I try to stay affordable, and I usually charge around €50 per hour depending on the job. I can give you an estimate if you have a specific project in mind. If you have a specific budget, let me know and we can work with it. I can give you a rough estimate and give you lots of pre-production advice to keep the price within the estimate. If you're thinking of making any recordings, from a one-song demo to an entire album, let me know and we can talk about it and decide if it's a good idea to work together.
Examples
So what does my work sound like? Here are a few examples. These are clips of about a minute long and have been bounced down to CD quality.
Enjoy the Dance Dave wrote this one, and he came in and played acoustic guitar and sang. Later I added two more acoustics, electric slide guitar, drums and percussion, and a session player added bass.
The Light This is a nice song by my friend Mick. He's singing and playing acoustic guitar twice, and I added electric guitars, keyboards, and the drum loops. Bass and backing vocals were also added later to complete the sound.
The Economy Aaron and Dave recorded two guitars and vocals live, and later we added a bit of accordion and harmonica.
In A Sentimental Mood Here's a nice simple piano and sax arrangement recorded at their house.
Our Pain I produced a hip hop song, LeoGo was 13 at the time he recorded this!
Discography as Producer

Happy Doin' What We're Doin'
Paul Daly Band - 2016
traditional and original Irish and folk songs

Ten Thousand Miles I've Travelled
Paul Stowe - 2016
original songs and folk/rock/blues covers

Fulfil the Wish
Dave Burke - 2015
15 original songs by the Cork singer/songwriter

Here's a Health to the Company
Matching Ties - 2015
modern and traditional Irish, English & Scottish folk songs & tunes

First Draught
Anam - 2014
traditional Irish tunes and songs

Embrace
The Naughton Sisters - 2014
Irish roots, Brazilian soul based in Munich

Down the Pub - Live
Paul Daly Band - 2014
Irish and folk band based in Munich

Here We Are
Tin Cups - 2014
Rock n roll, country, and oldies band from Dachau

Fourth Time Round
Two Time Polka - 2012
I engineered track 9: Pine Grove Blues

Stack of Songs
Martin Burns - 2011
Hamburg-based Belfast-born pianist and songwriter

YeeHaa!
Mary & Mountain Music - 2011
country music single (video)

Fly Away
Andy Galery - 2011
Slovakian singer songwriter

We Are Satisfied
Annette and Elke - 2011
Singers and guitarists from Berlin

Sound Senses
Orla O'Sullivan - 2010
A deaf-blind piano player

Hey, Listen to This...
Cork City Library - 2009
An audiobook of short stories

Sian Brown EP
Sian Brown - 2008
Cork singer/songwriter

Warmth in the Future
Jimmy March - 2002
Kansas singer/songwriter