Open Mic Nights in Munich
I used to run the Welt Bühne open mic night twice a month in Munich at the Eine Welt Haus, now that it's gone there are a lot of other open mic nights in town. Here is a little guide to all of them. Some are weekly, some only once or twice a month. For some of them you can just show up and perform, others require you to sign up in advance. Check the descriptions and links for details, and let me know if I'm missing anything. You might even see me guest hosting every once in a while. I've added a little review for the nights I've been to. They are all different, and all worth going to check out.
Mondays
The International Songwriters Evening at Heppel & Ettlich takes place on the first and third Monday of each month. The show starts at 8, doors open at 7 and if you'd like to perform you should be there as early as possible, ideally right at 7, since there are often more performers than time allows. There is a piano on the stage you can use, bring your own guitar or other instrument. Several microphones available. It's in a theater so there is a quiet and attentive audience. This is the longest running open mic in Munich and one of the best. Mostly singer/songwriter type stuff, everyone from beginners to experts.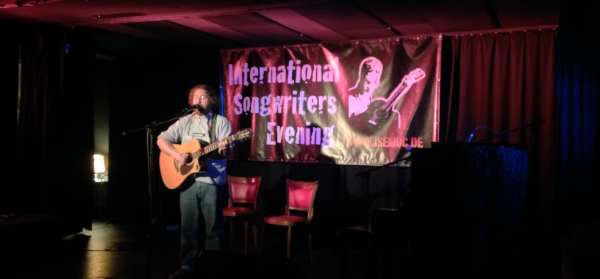 One Monday a month Titus Waldenfels runs an open mic at Stragula, check the schedule for the exact dates, it's usually in the middle of the month but varies. This one leans towards the jam session direction, there will be lots of musicians to back you, but they seem open to lots of different styles, there's a slight emphasis on country and western swing thanks to Titus's direction. Bring the whole band, it's a big stage and bands are welcome. I've only been once but got a good feeling, need to check it out again.
Tuesdays
Arts 'n' Boards hosts an open mic night the second Tuesday of each month. It's been going for a few years now and is quite nice, a very good crowd and a listening audience, lots of talking but it doesn't seem to get in the way of the music. If you want to play you should sign up in advance by email, but there's a small chance you can play if you just show up. There's everything from music to poetry to film. A piano is there for you but bring other instruments. It starts at 8 and has to finish at 11. Get there a bit early if you'd like a good seat. Toby (Tobi auf deutsch?) is the host and there's a sound guy too to make it sound perfect.
On the first and third Tuesday of the month there's a new open mic night at Gasthaus zum Dülfer in Feldmoching. Antonia, who runs the bar with Uwe, is a musician so you'll find a piano and guitar always there for everyone to use at this friendly Gaststätte on the edge of Munich. It's only a two minute walk from the U and S Bahn station, so although it might seem out of the way it's easy to get to. This night is unique as it's completely unplugged and entirely open in terms of format. There isn't a host besides Antonia, whatever happens happens. It's a new open mic so it's still building up and finding its way, but there is a lot of potential for something different here.
Wednesdays
The open mic at The Shamrock has a new format as of the start of 2017. Now Mark and company play Irish songs, all musicians welcome to join in (bring a cable if you want to plug in), and during the breaks anyone can get up and perform. Mark has his guitar and double bass there and will happily accompany you, whether he knows the song or not! A guest musician accompanies him, usually on mandolin or electric guitar, for the Irish stuff. It's picked up a lot since the old open mic format, worth checking out. If you're hungry, the nachos are surprisingly good for an Irish pub in Germany...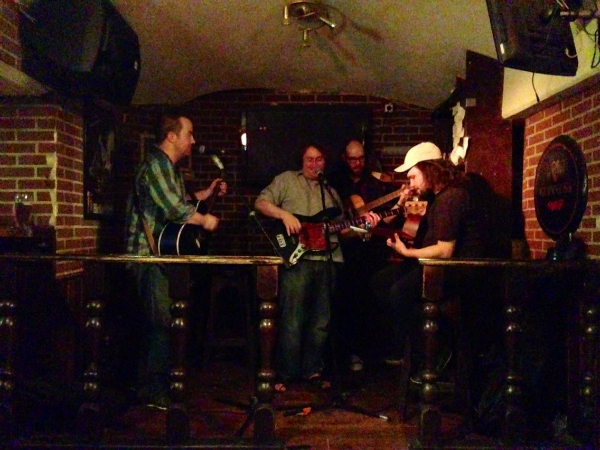 One Wednesday a month there is a Singer Songwriter Open Mic at Import Export. Check the web site for the schedule, you sign up in advance by email. I recently went for the first time and this one really impressed me. I've been twice now and have never seen any of the performers at other open mics around town, not sure where they come from. There's a 5 Euro admission fee that goes to a different charity each month, and it starts at 8:30, each act gets three songs, there are 10 or 12 acts. Afterwards the stage is open for people that didn't sign up or for all the musicians to play together in a jam session. It's very different to the rest of the more gentrified open mics in Munich, this one takes place in a dark dirty artsy warehouse, which makes for a great atmosphere, and the nights are well attended. Drink a Tillman's or two while you're there, it's about 100 times better than Augustiner and made around the corner.
Thursdays
Once a month there is an Open Stage at the Pelkovenschlössl in Moosach. It's very well attended, completely unplugged, and has a great atmosphere. Each act has ten minutes to perform, and there are six acts performing each month. In addition to music, there are poets, readings, photographers exhibiting their photos, magicians, and all sorts of other things. You have to register in advance by email, and occasionally there is a several month long wait for a free place. If you're going as an audience member, make sure you get there at least half an hour early if you'd like a place to sit.
Fridays
Friday Night LIve takes place every Friday at Club Cord featuring music and a bit of stand up comedy. Sign up in advance, see their page linked above to write Matt and ask him if there are any spots free. Matt starts the night off with a set of comedy and does a bit more in between the acts as he introduces them. The lineup is usually determined a few days in advance, but if you're too late write anyway, people sometimes back out or just don't show up. There is a large stage in the corner of a large room, plenty of couches and comfortable chairs to sit in and watch. The venue is on the first floor overlooking Sonnenstrasse, so there's a view. Each act gets about three songs or ten minutes, and there is a good listening audience. The show starts at 9 and lasts until midnight or so, and it's a club afterwards that gets louder with each passing minute until you're ready to jump out the window. It's €5 admission, but it's free if you arrive before 8:30.
The Bagel and Muffin Shop hosts an open mic the first and third Friday of each month. Just show up on the night to perform, Marco has been hosting the night for eight years or so. It starts at 8 and runs until 11 or so, and a group of performers usually go for drinks afterwards. It's a small venue with a nice quiet listening audience.
And on the second Friday of the month you'll find a totally unplugged open mic night at Werkhaus. No PA system, just go in and write your name on the chalkboard and you'll perform in that order. Wolfgang is the host and the night attracts a great listening audience and a wide variety of performers. I've seen everything from a classical guitar trio to homemade harmonica ensembles. There is a piano on the stage or bring your own instrument. This is a little known gem among open mics in Munich.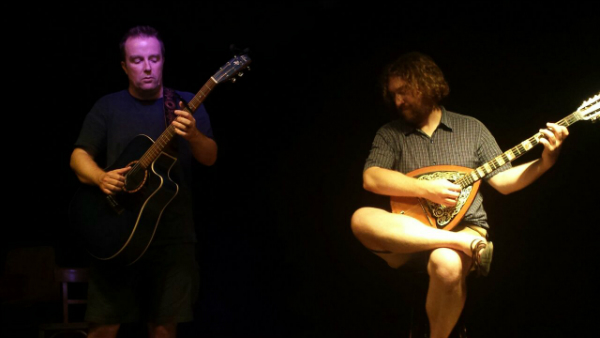 Once a month (the first or second Friday) is Songs am Kaminfeuer, where you can play your own songs. I haven't tried this one yet...
Sundays
There's an open mic night every Sunday at Kennedys from 8 to midnight. Just show up and play, bring your own instruments. You'll be rewarded with a free pint. It's not the best place for quiet songs and there will be hundreds of people talking, but lots pay attention and there are usually a lot of good musicians playing there. The crowd gets bigger and louder as the night progresses. Come and play early if you're a quiet singer songwriter, there's usually a decent listening atmosphere at the beginning of the night. Later on, you'll fit right in if you're doing covers that the crowd can sing along to, it can get a bit wild and chaotic, sometimes unbearably so, sometimes in a good way.
Varying days
There's an open mic night at Lost Weekend, it's once a month on a Friday or a Saturday, check their web site for details. You sign up in advance, I'll visit this one soon hopefully and report back...
Others?
Please let me know if you have more details for any of these nights, more nights for me to add, or would like to give me lots of money for putting up this list. This list was last updated on December 14, 2017.