Changing Trains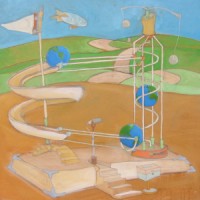 I lost my shirt
The day I wasn't wearing pants
I didn't know
If I was in Germany or France
I'm wide awake
I fall asleep and wake again
Gibt es der Rhein
Der Schwarzwald oder Sud Japan?
I don't know the candy
They can't understand me
I asked for water and they brought it in a big green bottle
I don't know which side of
The street to stay wide of
A yellow before green means you're supposed to start the throttle
I'm changing trains
I'm in the Munchen Hauptbahnhof
Is this the train?
And if so, are we on or off?
Now heading south
Can't tell the mountains from the sky
No sleepers left
Two people stuck in 1x5
Berets and machine guns
Those men are the mean ones
They want your ticket passport visa blood test thumbprint eye scan
We go through a tunnel
Hoping that no one'll
Step in our air-conditioned cabin and disturb the silence
Why have countries? They just lead to war
Why have wars when they just lead to more?
Who invented the nuclear bomb?
Don't envision your daughter a mom
We're back in France
We're heading west along the shore
And on the rocks
Nude older men and more and more
And on the coast
The sauce picante is like a stove
An aperitif
A painting by Vincent Van Gough
I don't know the candy
They can't understand me
I asked for water and they brought it in a big green bottle
I don't know which side of
The street to stay wide of
A yellow before green means you're supposed to start the throttle
Why have countries? They just lead to war
Why have wars when they just lead to more?
Who invented the nuclear bomb?
Don't envision your daughter a mom
©2002 Paul Solecki