Carnivorous Grass - Live at Gee Coffee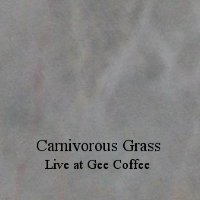 On February 17, 1996, Paul Solecki, Jim Kelly, Ryan Griffin, Jeff Mitchell, and Dave Perdaris played at the Olathe, Kansas mecca of civilization known as Gee Coffee. Friend and all around good guy Zach Ross recorded the gig on his trusty tape 4-track and it became the only official full-length Carnivorous Grass release. The boys made 100 tapes and they sold out in three days.
Go to CarnivorousGrass.com to download the album for free!