The Vetivers - Twelve O'Clock in All the World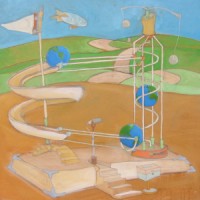 Before heading off to Ireland, Paul and his friends Ben Champion and Clyde Kim recorded the second Vetivers album. It's a lighthearted album with a travel theme, and a huge step forward compared to Lights. The album has more of an acoustic and organic feel and features 13 songs by Paul, one by Clyde, and one co-written by all three Vetivers. The album release concert in December 2002 was the last American gig for The Vetivers, as Paul moved to Ireland a few days later and Ben would soon set off for three years in England. Kiel Johnson designed the cover.
Click here to download the entire album for free!
Lyrics