Paul Solecki - Paul and Me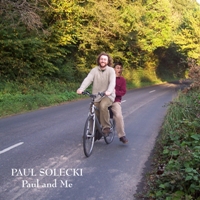 Paul and Me is a quiet acoustic CD featuring mostly guitar and mandolin accompaniment. The CD came about as a result of helping Ray Barron and his students at St. John's College in Cork. One of their projects is to record and mix a song, and after a couple of years of doing the student sessions Paul had a large collection of quality songs recorded and decided to release them as a CD. The song is a mix of brand new songs written since moving to Cork and a lot of older songs that never made it on any previous albums. Some are so old that Paul wrote them when he was 14 years old, therefore the front cover features a 14 year old Paul riding behind the modern Paul on his famous bike.
To sample the songs or to buy or download the CD, check out Paul and Me on CD Baby
And here are the photos from the launch gig and the cover art information.
Lyrics