Paul Solecki - Every Inch of Sky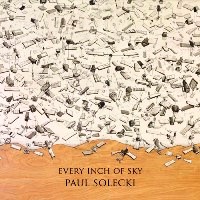 Aside from Ray Barron's excellent job on "Everybody Looks Funny," Paul produced his new album himself. The cover art was designed by Kiel Johnson and several guest musicians join Paul on the CD. Starting off with two simple pop songs, a few folky songs make their way into the mix before the album ends with a gospel song and a quiet mandolin instrumental. Paul plays a wide variety of instruments, from guitar and piano to accordion and mandolin, with a lot of keyboard and synths in the mix and even his debut on trumpet.
Check out the launch gig photos and the launch gig videos.
Click here to preview each song, then buy or download the CD from CD Baby.
Or click below to buy the CD directly from Paul in Euro:

Lyrics