Paul Solecki - Christmas EP 2010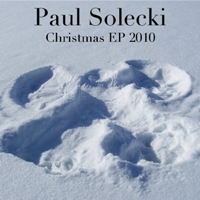 I wrote my last Christmas song in 1993, so in November 2010 I decided to try another one. I ended up quickly writing a silly song like the ones I used to write, but it sounded good to me so I recorded it. Steve Collender played drums and Eoin Fennessy played bass. The B-side is Takin' Off, a nice new song that doesn't really fit in with the rest of the new batch I'm getting ready to record. The C-side is the instrumental version of Everybody Looks Funny from the Every Inch of Sky CD.
This is my first completely digital release, and it's available to download here.
Lyrics